For over twenty five years, UltraThin — the original custom thin ribbon set — has been your source for military service medals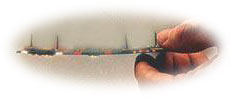 and ribbons.
Now we have a new look and new services, including easy online ordering which will allow you to build, see and order your ribbon rack. Army, Navy, Coast Guard, Marines, Air Force, Public Health Service, NOAA, Civil Air Patrol, Coast Guard Auxiliary, State and National Guard units... we have your ribbons and medals.
Over twenty years of experience, the highest quality materials, and hand-crafted workmanship produce the thinnest, lightest detachable ribbon set available anywhere. Learn more..