The Original is Still the Best!
UltraThin is the original custom thin ribbon set. Twenty years of history, the highest quality products and expert hand-crafted workmanship produce the thinnest, lightest, detachable ribbon set available anywhere at any price.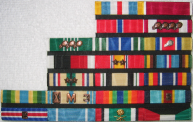 A true American product, the difference between our products and others is clearly visible. Whether you see them in person or in your official photograph, UltraThin's reputation for superior appearance stands above the rest. When it is important to look your best, make sure that UltraThin is on the label.
Your custom-made set of UltraThin ribbons or medals is as close as your mailbox. Using our rack builder you can easily view and select the decorations and devices you desire. Submit your order form electronically or print the order form and fax or mail it to the address shown. We are your full service ribbon source that will be here next year and for the next 20 years.
Delivery times will vary by time of year and world events, but will normally be made and delivered in less than two weeks. If you are ordering during a high demand period, please allow sufficient time for you order. If you have specific requirements indicate them with your order or call for current delivery times.
Because your ribbons and/or medals are hand-fit and assembled to your specifications, please double check the proper selection and arrangement. If you have any questions contact us. Errors can normally be repaired, but there may be a service charge for fixing sets ordered with incorrect awards. We can also update devices on an existing set for a small service charge.
UltraThin is a full service company. In addition to the five major armed forces we carry all ribbons and nametags and most medals for the Public Health Service, NOAA, Civil Air Patrol, Coast Guard Auxiliary and Merchant Marine. Choose any service or combination of services that you need for your set.
We also have most National Guard and State Guard ribbons and are adding more as demand dictates and suppliers can be located. If you don't see your state, call or email as we are adding to our stock daily and have many that are not currently listed.